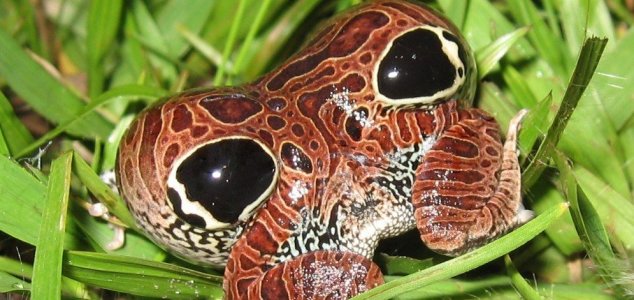 The frog looks rather strange from behind.

Image Credit: CC BY-SA 2.5 Felipe Gomes
South America's Cuyaba dwarf frog has a rather unique way of dissuading predators from eating it for lunch.
There are many thousands of species of frog worldwide and while most of them are harmless, some possess deadly defense mechanisms aimed at protecting them from would-be predators.
One peculiar example is the Cuyaba dwarf frog (or
Physalaemus nattereri
) which can be found in the swamps of central and southeastern Brazil as well as in eastern Bolivia and Paraguay.
Unlike some species which exhibit bright colors to ward off predators, this unusual amphibian puffs up its own posterior (which happens to have two eye-like markings on it) to look larger than it actually is.
If a predator proceeds to attack anyway, the frog also has another surprise in store - special poison glands beneath the eye-spots that can put out enough toxin to kill 150 mice.
Any animal foolish enough to try and eat the frog will quickly wind up sick and disoriented.
Fortunately however, the poison is not believed to be deadly to humans.
Source: National Geographic | Comments (5)
Similar stories based on this topic:
Tags: Frog