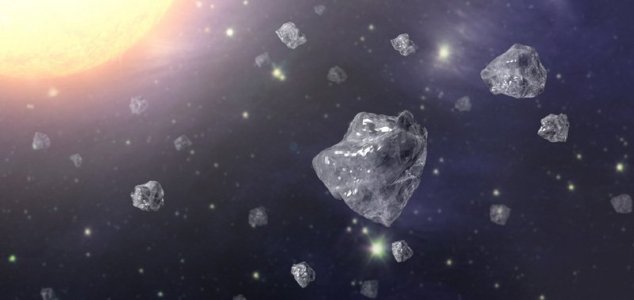 Nanodiamonds can be found in protoplanetary disks.

Image Credit: NASA / JPL
A long-running mystery concerning an unexplained glow in parts of the night sky has finally been solved.
Known as the anomalous microwave emission (AME), this peculiar glow was originally discovered at the turn of the century by astronomers who had been taking microwave radiation measurements.
Now though, after years of speculation, the answer to the mystery has finally been found and it is all to do with tiny pyramid-shaped diamonds found in the rings of gas and dust around newly formed stars.
"In a Sherlock Holmes-like method of eliminating all other causes, we can confidently say the best candidate capable of producing this microwave glow is the presence of nanodiamonds around these newly formed stars," said Dr Jane Greaves at Cardiff University.
The glow itself is caused by the emission of radiation by these nanodiamonds as they spin around.
The discovery was made by focusing on three young stars that happen to be emitting AME light.
"This is a cool and unexpected resolution of the puzzle of anomalous microwaves radiation," said Greaves. "It's even more interesting that it was obtained by looking at protoplanetary disks, shedding light on the chemical features of early solar systems, including our own."
Source: Independent | Comments (5)
Tags: Glow, Diamonds