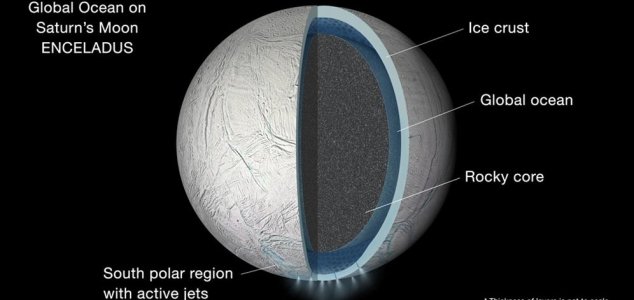 Enceladus is looking like an increasingly good place to search for life.

Image Credit: NASA/JPL-Caltech
Scientists have determined that Saturn's icy moon has 'all of the basic requirements for life as we know it'.
When NASA's Cassini spacecraft sampled plumes of material thrown up in to space during one of its final flyby's of Enceladus, it detected tantalising evidence of complex organic chemistry.
Now following a detailed analysis of these findings, scientists have revealed that Enceladus, like the Earth, has everything that life needs to develop.
"Complex organic molecules do not necessarily provide a habitable environment, but on the other hand they are a necessary precursor for life," said research leader Dr Frank Postberg. "Previously it was unknown whether complex organic chemistry happens on Enceladus - and now we know."
Enceladus, like Jupiter's moon Europa, is thought to be home to a subterranean ocean. Hydrothermal vents on the floor of this ocean could be the perfect place for primitive alien life forms to thrive.
"Hydrogen provides a source of chemical energy supporting microbes that live in the Earth's oceans near hydrothermal vents," said study co-author Dr Hunter Waite.
"Once you have identified a potential food source for microbes, the next question to ask is 'what is the nature of the complex organics in the ocean?' This paper represents the first step in that understanding - complexity in the organic chemistry beyond our expectations."
Source: Independent | Comments (9)
Tags: Enceladus