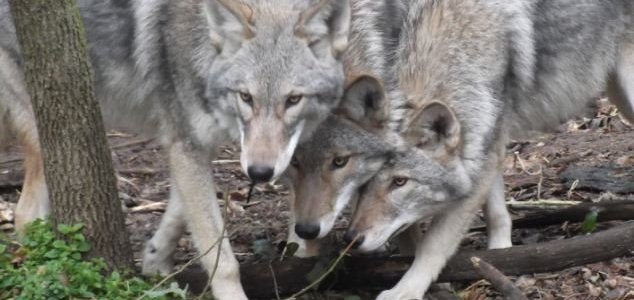 Wolves are better at making up than dogs.

Image Credit: CC BY-SA 3.0 L. David Mech et al.
A new study has revealed that, unlike wolves, dogs seem to have lost the ability to reconcile after a fight.
The research, which was conducted by scientists at the University of Vienna's Messerli Research Institute, involved careful observation of the behavior of four captive wolf and dog packs.
Both dogs and wolves follow certain rules of behavior designed to ensure the pack's survival. One of these, which governs how the animals should behave after a conflict, may seem common to both, however as it turns out, this does not actually appear to be the case.
During the study, the wolf pack members got in to fights with one another but seemed to make up almost immediately, often ending up playing together again as soon as ten minutes later.
The dogs, by contrast, were less likely to fight, but when a conflict did take place it was more vicious than with the wolves and the animals did not seem to reconcile afterwards.
Exactly when our canine companions lost this particular trait remains unclear, however it is almost certainly the result of their domestication over the course of many thousands of years.
It seems that getting along with us is now more important to them than getting along with one another.
Source: Phys.org | Comments (6)
Similar stories based on this topic:
Tags: Dogs, Wolves