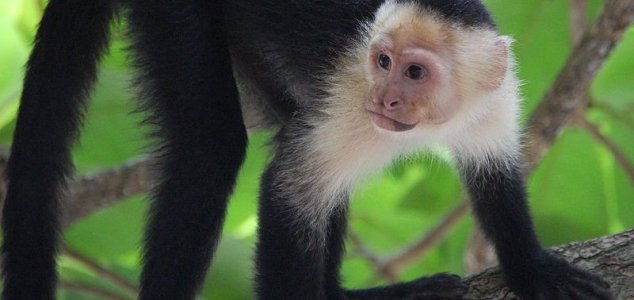 White-faced capuchins are rather intelligent.

Image Credit: CC BY-SA 3.0 Steven G. Johnson
Remarkable new footage shows a white-faced capuchin using a stone as a hammer to break open nuts to eat.
The discovery was made by an international team of researchers who had set up camera traps around Panama's Coiba National Park in an effort to capture the capuchins' behavior on film.
They were elated when they captured footage of one of the animals using a stone to break open nuts, making white-faced capuchins only the fourth non-human primate species known to use stone tools.
Intriguingly, only the animals on one particular island seemed to have figured out how to do this, suggesting that they, as well as our own ancestors, may have stumbled upon tool use by chance.
In addition to white-faced capuchins, other non-human primates known to use stone tools include chimpanzees in West Africa, macaques in Thailand and tufted capuchins in South America.
Source: Fox News | Comments (15)
Tags: Monkey, Primate