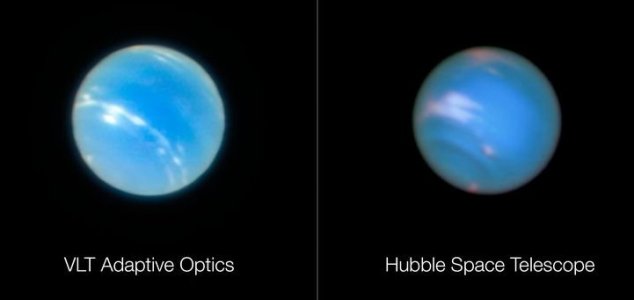 Using adaptive optics, the VLT's image is sharper than Hubble's.

Image Credit: ESO / NASA / ESA
Adaptive optics technology has now made it possible for ground telescopes to take extremely sharp images.
Until recently, the only way astronomers could deal with the distortion caused by the Earth's atmosphere was to either build telescopes at high altitude or launch them in to space.
Now though, thanks to a recent innovation known as adaptive optics, it has been possible to compensate for this atmospheric distortion and obtain clearer observations from the ground.
The technology uses lasers and a deformable mirror system to correct the distortion in real-time.
The European Southern Observatory's Very Large Telescope (VLT) in Chile, which has been gradually improving its adaptive optics for two years, recently received a major new update.
The improvement is so significant in fact that the VLT can now take sharper images than the Hubble Space Telescope which is itself well known for capturing breathtaking photographs of the cosmos.
A recently released image of Neptune (above) shows just how far the technology has come.
Source: Popular Mechanics | Comments (9)
Tags: Adaptive Optics