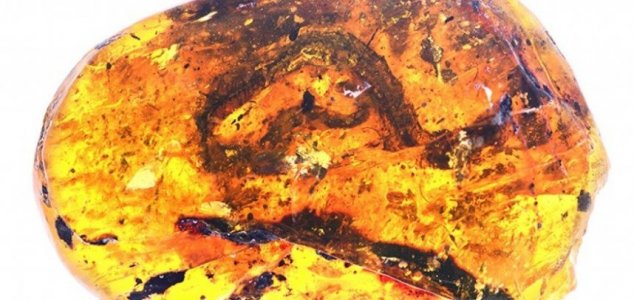 The snake met a sticky end trapped in tree resin.

Image Credit: L Xing et al. / Science Advances 2018
Scientists have discovered the well-preserved remains of a jeuvenile snake dating back 99 million years.
The specimen, which is thought to have been unearthed in Myanmar (Burma), was donated by a private owner to the museum of the Dexu Institute of Palaeontology near Beijing, China.
Dating back to the Cretaceous period, the amber contains the oldest known fossil of a baby snake ever discovered. Scientists have dubbed the species
Xiaophis myanmarensis
.
"Even though it is a baby, there are very unique features of the top of the vertebrae that have never been seen before in other fossil snakes of a similar kind," said co-author Prof Michael Caldwell.
"Xiaophis fits into the base of the snake family tree, and into a group of snakes that appear to be very ancient."
In addition to the snake, the amber also contains evidence of the habitat in which it once lived.
"It is clear that this little snake was living in a forested environment with numerous insects and plants, as these are preserved in the clast," said Caldwell.
Source: Live Science | Comments (3)
Similar stories based on this topic:
Tags: Snake, Amber