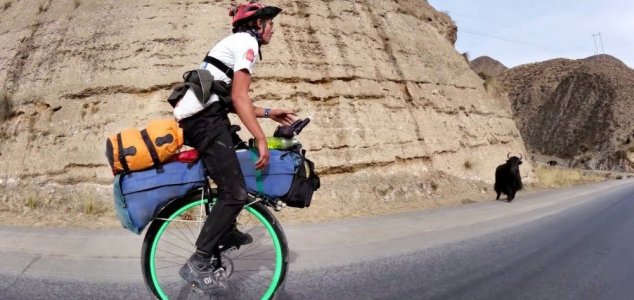 The feat is nothing short of incredible.

Image Credit: YouTube / Ed Pratt
21-year-old Ed Pratt from the UK completed the epic 21,000-mile challenge within approximately 40 months.
As if travelling around the entire world on a regular bicycle wasn't enough of a challenge, Ed has managed to achieve the impossible by doing the whole thing on a unicycle.
His journey began in March 2015 near Taunton, Somerset.
The trip, which took 16 months longer than expected due to icy roads and other obstacles, helped to raise a whopping $400,000 for the School in a Bag charity which supplies educational equipment to vulnerable children in countries around the world.
"He left school in search of a challenge and adventure," said Ed's parents.
"Anyone who has followed his journey around the world will know that he has created just that."
Source: BBC News | Comments (6)
Tags: Unicycle