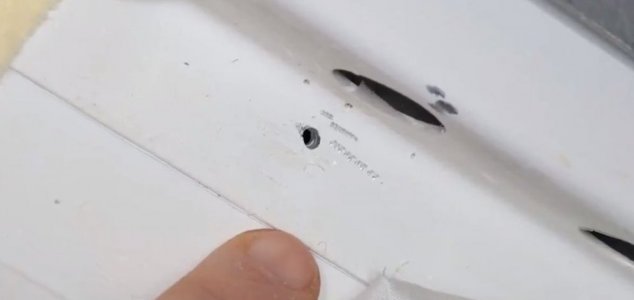 Who was responsible for drilling the hole and why ?

Image Credit: NASA
Russian investigators now believe that the hole in the ISS was created from the inside, not from the outside.
Originally thought to have been the result of a meteorite impact, the tiny hole was discovered last week after flight controllers picked up an unexplained drop in cabin pressure.
The leak turned out to be aboard the Soyuz MS-09 spacecraft that is currently docked at the station.
While the astronauts were able to successfully seal off the hole with tape, worrying evidence has since been found suggesting that a small space rock might not have been responsible after all.
Instead, according to a special commission set up by Russia's space agency Roscosmos, the hole appears to have been made from the inside of the capsule using a drill.
"We are considering all the theories," said Roscosmos head Dmitry Rogozin. "The one about a meteorite impact has been rejected because the ship's hull was evidently impacted from inside."
"It was done by a human hand - there are traces of a drill sliding along the surface."
"It is a matter of honor for Energia Rocket and Space Corporation to find the one responsible for that, to find out whether it was an accidental defect or a deliberate spoilage and where it was done - either on Earth or in space."
Source: Science Alert | Comments (47)
Similar stories based on this topic:
Tags: ISS, Astronauts