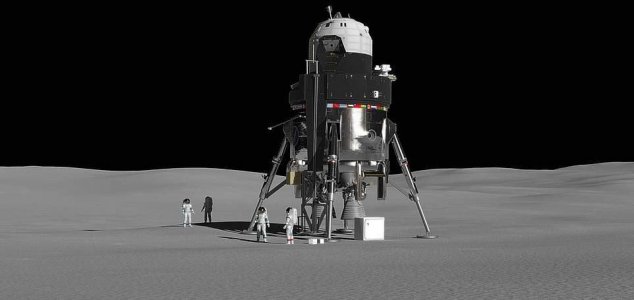 The new lander will be capable of carrying four astronauts.

Image Credit: Lockheed Martin
The ambitious new vehicle will be twice the size of the lunar landers used during the Apollo missions.
The unveiling demonstrates the aerospace giant's commitment to fulfilling NASA's plan to land humans on the surface of the Moon as a stepping stone towards a future mission to Mars.
The space agency had asked its partners to present plans for both a lander vehicle and an orbiting 'Lunar Gateway' - a manned space station scheduled for completion by the year 2026.
Lockheed's new lander concept, which is designed to shuttle astronauts between the station and the Moon's surface, can carry four astronauts as well as enough fuel and supplies to last two weeks.
After each mission, the crew would return to the station to rest and resupply.
The reusable nature of the spacecraft will make it a far more cost-efficient solution to lunar exploration than the Apollo landers which had to endure launch and re-entry through the Earth's atmosphere.
"NASA asked industry for innovative and new approaches to advance America's goal of returning humans to the Moon, and establishing a sustainable, enduring presence there," said Lisa Callahan, vice president and general manager of Commercial Civil Space at Lockheed Martin Space.
"This is a concept that takes full advantage of both the Gateway and existing technologies to create a versatile, powerful lander that can be built quickly and affordably."
Source: Phys.org | Comments (17)
Tags: Lunar Lander, Moon