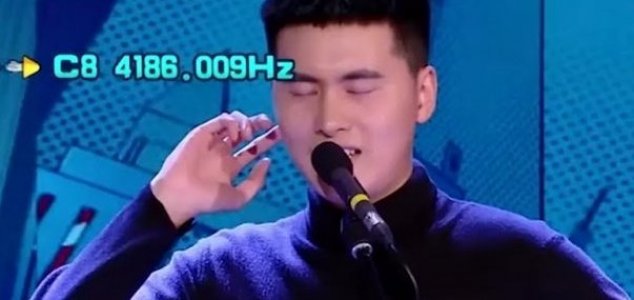 Good luck trying to duplicate this performance.

Image Credit: YouTube / Guinness World Records
Wang Xiaolong, who is from China, achieved a world record in the 'highest vocal note by a male' category.
The earsplitting note was achieved on the Chinese TV show 'Happy Camp'.
The episode, which was recently uploaded on to YouTube, saw Xiaolong screech his way to victory in front of an audience as adjudicators from Guinness World Records monitored his performance.
Special audio equipment was used to determine the exact frequency of the sound.
He ultimately managed to hit a high E in the 8th octave with a frequency of 5243Hz.
The footage of his accomplishment can be viewed (and heard) below. Note that if you are using headphones, you may want to lower the volume a bit before playing the video.
Source: YouTube | Comments (10)
Tags: High-Pitched, World Record