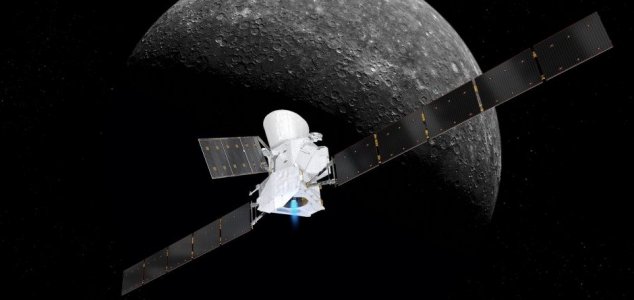 It will take seven years for the probe to reach its target.

Image Credit: ESA / ATG medialab / NASA
The ambitious new mission will see two satellites placed in to orbit around the closest planet to the Sun.
Designed and built through a collaboration between the European Space Agency (ESA) and the Japanese Space Agency (JAXA), the new spacecraft is made up of two satellites - the Mercury Planetary Orbiter (MPO) and the Mercury Magnetospheric Orbiter (MIO).
The mission's goal will be to conduct the most comprehensive study of Mercury's magnetic field, interior structure and surface to date. The probe will take around seven years to get there.
The launch took place from a pad in Kourou, French Guiana in the early hours of this morning.
"Arianespace is delighted to announce that BepiColombo has been separated as planned on the targeted escape orbit and is now on its way towards Mercury," said Arianespace chief executive Stephane Israel.
Due to the intense gravitational pull of the Sun, the spacecraft will take a long elliptical path to its destination which will involve undertaking two flybys of Venus and a further six flybys of Mercury.
"This is truly breathtaking," said ESA's Gunther Hasinger. "We have today written history. We have sent the most complex stack of spacecraft that ever have been conceived into space, and to a very long journey to an environment which is truly out of the Earth; truly out of this world."
Source: Sky News | Comments (4)
Tags: BepiColombo, Mercury