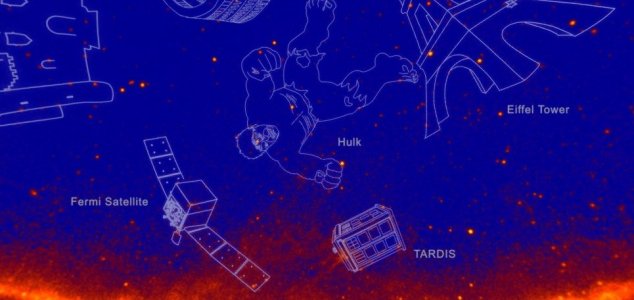 The new constellations include the Eiffel Tower, a black widow spider and the Hulk.

Image Credit: NASA
NASA has revealed an unofficial list of new gamma ray constellations based on popular culture icons.
Unlike the 88 official constellations recognized by the International Astronomical Union, these 21 new additions use, not visible stars, but objects in the night sky visible only to gamma ray telescopes.
The new constellations include Dr Who's TARDIS, the Starship Enterprise, the head of famous scientist Albert Einstein and the Japanese city-stomping monster Godzilla.
They were picked out to celebrate the 10th anniversary of NASA's Fermi gamma-ray space telescope.
"Developing these unofficial constellations was a fun way to highlight a decade of Fermi's accomplishments," said Fermi project scientist Julie McEnery.
"One way or another, all of the gamma-ray constellations have a tie-in to Fermi science."
Source: Business Insider | Comments (1)
Tags: Constellations