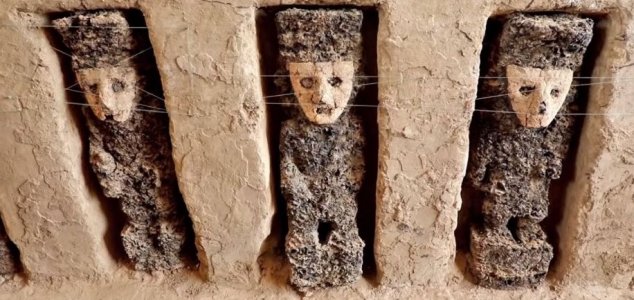 The statues look decidedly creepy.

Image Credit: YouTube / Ministerio de Cultura La Libertad
The unnerving statues, which date back 800 years, were unearthed in the ruins of the ancient city of Chan Chan.
Displayed within special alcoves in the side of a passageway, each of the nineteen idols is approximately 70cm tall and represents a different 'guardian' in Peru's Chimu culture.
Made primarily out of wood, the figures are each adorned with a mask made from beige clay.
"We assume they are guardians," said archaeologist Henry Gayoso Rullier.
"They could belong to the middle stage of Chan Chan, between 1100 and 1300 CE, and we would be talking about the oldest sculptures known on this site."
On the outside of the passageway, an impressive mud relief mural was also found complete with intricate depictions of waves, seascapes, fishing nets, scrolls and religious symbols.
A documentary with footage of the idols, as well as of the ruins themselves, can be viewed below.
Source: Science Alert | Comments (4)
Tags: Chan Chan, Idols, Statues