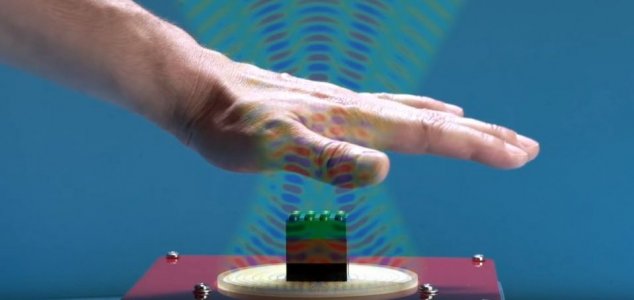 The technology uses sound to create acoustic holograms.

Image Credit: YouTube / Interact Lab
Scientists have created a device that can levitate small objects even when something else is in the way.
Developed by a team of researchers in the UK, the acoustic tractor beam, which is known as 'SoundBender', was revealed earlier this month at a technology symposium in Germany.
Unlike other similar devices, this one combines an ultrasound transducer array with an acoustic metamaterial to make it possible for the sound to bypass physical obstacles.
The key to this breakthrough is the addition of the metamaterial which helps to produce a more complex field of sound.
"A metamaterial is passive (like a lens for light), so we can theoretically put more energy in the sound," said Dr Gianluca Memoli from the University of Sussex.
In a demonstration video, the SoundBender can be seen levitating a small bead of polystyrene over the top of a LEGO figure. It also shows the sound bending around the flame of a lit candle.
The technology has a wide range of real-world applications in science, engineering and medicine.
"Controlling where sound goes is [currently] expensive and limited in capability, and therefore we need tens of speakers to have sound that goes behind obstacles - like while blasting tumours with ultrasound behind the ribs," Dr Memoli told
Physics World
.
"In a world where sound management is becoming a key aspect of our everyday life, we show that control can be achieved at the source, augmenting existing sound technologies with metamaterials."
Source: Physics World | Comments (1)
Tags: Tractor Beam, Levitate