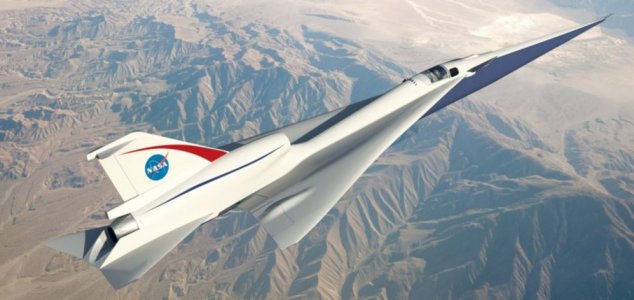 The new jet will certainly look the part.

Image Credit: NASA
The futuristic X-59 will be able to travel at supersonic speeds without producing a deafening sonic boom.
Concorde, the British-French turbojet-powered supersonic passenger jet airliner that was discontinued in 2003, got a lot of things right, however the deafening sonic booms produced by these aircraft were so disruptive that civilian supersonic flights ended up being banned in the US and Europe entirely.
Now aerospace giant Lockheed Martin has officially started work on a brand new type of supersonic aircraft that gets around this problem thanks to technology recently developed by NASA.
The ultimate goal will be to build a new line of 'quiet' commercial supersonic passenger planes which offer all of the advantages of Concorde but none of the drawbacks.
The first test flight of the prototype is set to take place within the next three years.
It will be capable of cruising at an altitude of 55,000ft at speeds of up to 940 miles per hour.
"The start of manufacturing on the project marks a great leap forward for the X-59 and the future of quiet supersonic commercial travel," said program manager Peter Iosifidis.
"The long, slender design of the aircraft is the key to achieving a low sonic boom. As we enter into the manufacturing phase, the aircraft structure begins to take shape, bringing us one step closer to enabling supersonic travel for passengers around the world."
Source: AOL News | Comments (8)
Tags: X-59, Supersonic