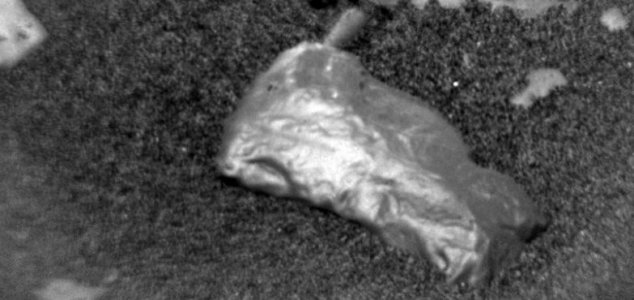 Is this a meteorite, or something else ?

Image Credit: NASA / JPL-Caltech
NASA's long-lived rover has come across an intriguing object that almost looks like a small gold nugget.
Having explored more than eleven miles of the dusty Martian surface in the six years that it has been trundling across the Red Planet, Curiosity has found more than its fair share of enigmas.
This latest find, which exhibits a remarkable shine that stands out against the dust and rocks, was posted up on NASA's website a few days ago.
While it looks like a gold nugget, scientists believe that it is most likely a meteorite.
It has since come to be nicknamed 'Little Colonsay'.
This is not the first anomalous object to be found by the rover either - back in 2012 it analyzed a strange bright object on the ground that turned out to be a piece of plastic off Curiosity itself.
It remains to be seen however exactly what Little Colonsay will turn out to be.
Source: CNET.com | Comments (12)
Similar stories based on this topic:
Tags: Mars, Curiosity