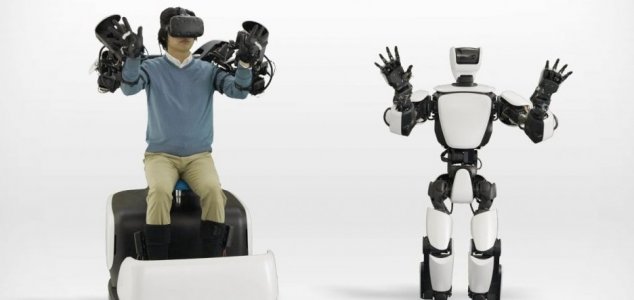 Controlling a robot has never been so easy.

Image Credit: YouTube / Toyota Global Newsroom
Toyota's remarkably impressive T-HR31 humanoid robot can now be controlled by an operator six miles away.
Capable of some seriously life-like motions thanks to its sophisticated torque servo modules, the T-HR31 has a futuristic control system that looks like something out of a science fiction movie.
Using next-generation wireless technology, the system enables the operator to control the robot through a combination of one-to-one arm controls and a virtual reality headset.
Through Japanese carrier Docomo, the wireless connection can now function up to 10 miles away.
Set to be demoed at an event in Tokyo early next year, the robot and its low-latency wireless controls could one day lead to home-help robots and remote-operated robotic platforms in the workplace.
Source: Techcrunch.com | Comments (5)
Tags: Toyota, T-HR3, Robot