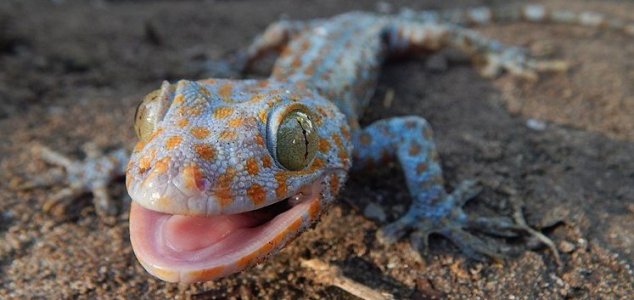 Geckos are remarkably skilled at crossing bodies of water.

Image Credit: CC BY-SA 4.0 FaisalZuhri
A new study has shed light on how these remarkable lizards are able to run across the water's surface.
Geckos are already considered something of a 'superhero' of the lizard world, given that they are capable of not only climbing up vertical walls but also of gliding through the air.
And now, incredibly, it turns out that they are also able to walk on water as well.
In a new study, biophysicist Dr Jasmine Nirody and colleagues from the University of Oxford decided to determine exactly how geckos are able to stop themselves from sinking while crossing water.
To investigate, they acquired a number of geckos and filmed them crossing a tank of water.
They discovered that the lizards were able to stay afloat thanks to a combination of techniques including slapping their feet on the surface to create air pockets that stop them from sinking.
Water tension, water-repellent skin and the swift strokes of their tail also aided in the feat.
"Geckos have this amazing superhydrophobic skin that repels water and enhances their ability to stay above the surface," said Dr Nirody.
"So in addition to surface tension and slapping, they have their own special trick."
Source: Independent | Comments (8)
Tags: Gecko, Water