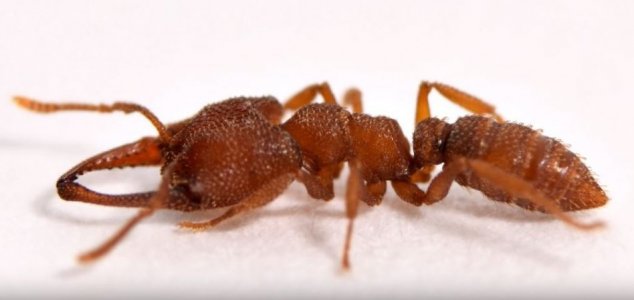 The Dracula ant got its name from its unusual eating habits.

Image Credit: YouTube / Ant Lab
The animal with the world's fastest moving appendage has been revealed to be a tiny ant with a lethal jaw.
The species, which can be found in Africa, Australia and southeast Asia, is able to snap its jaws shut at a staggering 200 miles per hour - that's 5,000 times faster than the blink of an eye.
The way that its jaw mechanism works is also unusual and involves spring-loading its mandibles with internal stresses which release when one mandible is slid across the other.
The resulting force is perfect for snatching prey or for helping the ant to defend itself.
"Their powerful jaws work like a mousetrap, except the latch and spring mechanism are all in one," said entomologist Professor Andrew Suarez from the University of Illinois.
"The ants use this motion to smack other arthropods, likely stunning them, smashing them against a tunnel wall or pushing them away."
This incredible snapping motion is now recognized as the fastest animal movement on record.
Source: Sky News | Comments (5)
Tags: Dracula Ant