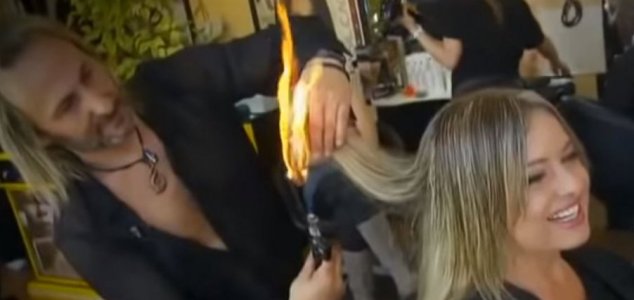 One of the tools Olmedo uses to cut hair is fire.

Image Credit: YouTube / Alberto Olmedo
Hairdresser Alberto Olmedo of Campamento, south Madrid has a rather unique way of cutting his clients' hair.
Olmedo, who grew up in France, maintains that his unusual hairdressing style, which has proven inexplicably popular among his customers, is inspired by Renaissance tradition.
"People have been using small daggers to cut hair for hundreds of years," he said.
"I'm practically using primitive tools: fire, swords, it's a bit medieval."
According to Olmedo, using swords to cut hair produces a more even finish than scissors and also makes it possible to cut the hair on both sides of the head at the same time.
He even offers a haircut which involves swiping at the hair while wearing metal claws on his fingers.
A full session demonstrating several of his more unusual techniques can be viewed below.
Source: Euronews.com | Comments (12)
Tags: Alberto Olmedo, Hair