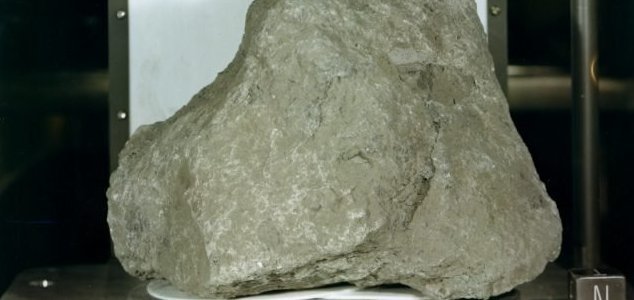 Found on the Moon, this rock may have actually come from the Earth.

Image Credit: NASA
One of the most intriguing samples retrieved by the Apollo 14 astronauts appears to be terrestrial in origin.
A recent geological analysis of a rock discovered by astronauts Alan Shepard and Ed Mitchell during the Apollo 14 Moon landing in 1971 has revealed traits consistent with formation on the Earth.
Known as 'Big Bertha', the sample contains felsite clast with quartz, feldspar and zircon embedded inside it - elements that are all rare on the Moon but common in rocks found on terra firma.
"What we did was use the composition of minerals in the fragment to show it formed under conditions that only occur on Earth," study co-author Katie Robinson told Gizmodo.
"For example, the composition of certain minerals are sensitive to temperature and pressure; they contain more or less of various elements if they crystallize in hot or cool, and/or deep or shallow environments."
"Our data shows that this fragment formed in a higher-pressure, more oxygen-rich, and lower temperature environment than occurs on the Moon."
"Essentially, it had to come from an Earth-like environment."
It is believed that the rock was likely thrown up in to space following a meteor impact at a time when our lunar neighbor was much closer to the Earth than it is today.
If its origins can be conclusively confirmed, it will make this one of the most unique discoveries ever made on the Moon.
Source: Extreme Tech | Comments (22)
Tags: Apollo 14, Moon, Earth