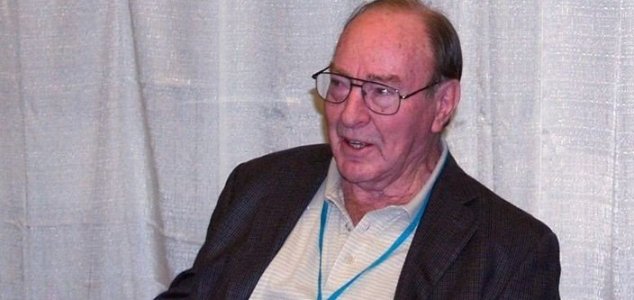 Edgar Mitchell attending an event in San Diego.

Image Credit: Phil Konstantin
Apollo 14 astronaut Edgar Mitchell believes that visitors from space may have prevented armageddon.
The 84-year-old, who was the sixth man to walk on the surface of the moon back in 1971, maintains that our planet has been visited by intelligent extraterrestrials for years and that they may have even intervened in our affairs in an attempt to prevent a nuclear apocalypse.
Mitchell's views are based on many of the experiences communicated to him by military personnel who claim, among other things, to have witnessed UFOs over missile bases during the Cold War.
"UFOs were frequently seen overhead and often disabled their missiles," he said.
"They wanted to know about our military capabilities. My own experience talking to people has made it clear the ETs had been attempting to keep us from going to war and help create peace on Earth."
Mitchell's rather spectacular claims however have been met with a sizable degree of skepticism.
During a Kerrang Radio interview in 2008 he maintained that mankind had been in contact with aliens many times and that this had been covered up by world governments for over 60 years.
"I happen to have been privileged enough to be in on the fact that we've been visited on this planet, and the UFO phenomenon is real," he said.
A NASA spokesman at the time however was keen to distance the agency from Mitchell's remarks.
"NASA is not involved in any sort of cover up about alien life on this planet or anywhere in the universe," he said. "Dr Mitchell is a great American, but we do not share his opinions on this issue."
Source: Fox News | Comments (288)
Tags: Edgar Mitchell, Extraterrestrial, Nuclear War