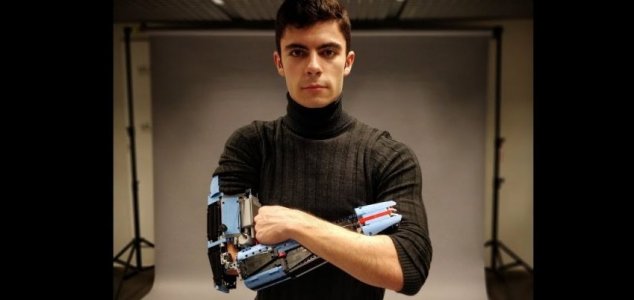 You really can build a new arm out of Lego.

Image Credit: YouTube / Hand Solo / David Aguilar
19-year-old bioengineering student David Aguilar has used Lego to build his own robotic prosthetics.
Born without a right forearm due to a rare genetic condition, Aguilar, who is a student at the International University of Catalonia, wanted to find an affordable way to build robot arms.
He ultimately decided to use Lego bricks.
"As a child I was very nervous to be in front of other guys because I was different, but that didn't stop me believing in my dreams," he said.
"I wanted to... see myself in the mirror like I see other guys, with two hands."
His first design, which was red and yellow and named 'Mark I' after Tony Stark's Iron Man suit, featured a bendable elbow and a grabbing hand that he could use to pick up objects.
He has since built several other, increasingly sophisticated iterations.
His main goal is to make affordable robotic arms available to anyone who needs them.
"I would try to give them a prosthetic, even if it's for free, to make them feel like a normal person, because what is normal, right ?" he said.
You can see in more detail how his robotic arm designs actually work in the video below.
Source: CNET.com | Comments (17)
Similar stories based on this topic:
Tags: Robot, Prosthetic