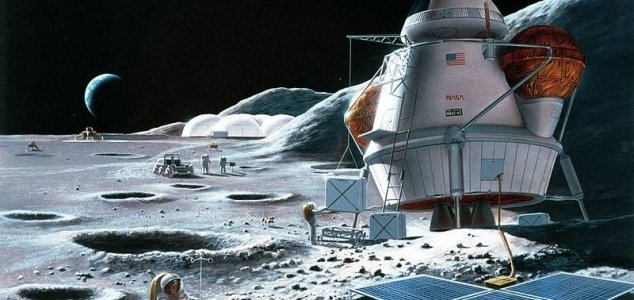 NASA is going back to the Moon.

Image Credit: NASA/SAIC/Pat Rawlings
The space agency is currently seeking partners to develop reusable lunar landing vehicles.
As the 50th anniversary of the first manned moon landing draws closer, NASA is looking to not only repeat its 1969 success but to take things one step further by sending astronauts to the moon on a more permanent basis.
To this end, administrator Jim Bridenstine has called on American firms to develop "reusable systems for astronauts to land on the moon" with the goal of returning there within the next ten years.
"As a lifelong NASA supporter, I am thrilled to be talking once again about landing humans on the moon," he wrote. "But to some, saying we're returning to the moon implies we'll be doing the same as we did 50 years ago. I want to be clear - that is not our vision."
"We are going to the moon with innovative new technologies and systems to explore more locations across the surface than we ever thought possible. This time, when we go to the moon, we will stay."
Things are due to get underway next week when industry partners meet up at NASA headquarters to discuss the technology needed to establish "a sustainable, human presence beyond Earth's orbit".
"That starts with the Gateway - a lunar orbiting outpost designed to ensure the safe transit of astronauts to the lunar surface and back home again," said Bridenstine.
"Billions of people around the world will watch history being made as astronauts explore more of the surface for longer periods of time than ever before, and help us prepare for missions to Mars and other destinations."
Source: Sky News | Comments (12)
Similar stories based on this topic:
Tags: Moon, NASA