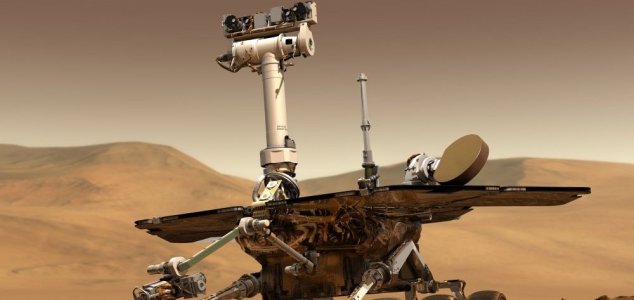 Opportunity exceeded everyone's expectations.

Image Credit: NASA
The rover's mission, which saw it trundle across the Martian surface for over 15 years, is now complete.
The announcement, which brought equal parts sadness and celebration, had been all but inevitable after Opportunity stopped communicating eight months ago following a dust storm.
Opportunity launched on July 7th, 2003 - three weeks after its twin rover Spirit - and landed on Mars at Meridiani Planum on January 25th, 2004 to begin its 90-day exploratory mission.
Incredibly, it managed to far exceed expectations by spending one-and-a-half decades exploring Mars.
"I'm standing here with a sense of deep appreciation and gratitude to declare the Opportunity mission as complete," said Thomas Zurbuchen of NASA's Science Mission Directorate.
"It transformed our understanding of our planet, everything we do and think about in our planetary neighborhood with Mars and elsewhere relates to the research from that and the engineering breakthroughs that came from that."
During its time on Mars, Opportunity managed to cover a whopping 28 miles - a feat made all the more remarkable by the fact that it had only been designed to cover 1,000 meters.
"We had expected that dust falling out of the air would accumulate on the solar arrays and eventually choke off power," said Mars Exploration Rover project manager John Callas.
"What we didn't expect was that wind would come along periodically and blow the dust off the arrays."
Source: The Guardian | Comments (19)
Similar stories based on this topic:
Tags: Opportunity, Mars