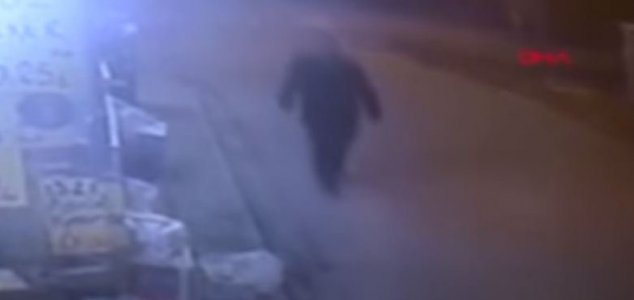 Who was the mysterious man ?

Image Credit: YouTube / Serdar Biniciyi / Gazete Duvar
CCTV footage shows the moment a man was warned of impending danger by an unexpected tap on the shoulder.
The peculiar incident, which reportedly occurred in Adana, Turkey, saw market manager Serdar Binici'yi narrowly avoid death after being alerted in advance by a complete stranger.
Binici'yi had been arranging goods outside his shop one evening when he heard someone call out to him and felt a sudden tap on his shoulder.
As he turned around to see who it was, he immediately caught sight of a large metal gate careening towards him from across the street. Instinctively he jumped back, narrowly avoiding serious injury.
When he later reviewed CCTV footage from the time of the incident however he was shocked to discover that a mysterious man had walked straight towards him and tapped him on the shoulder mere seconds before the gate was about to strike.
The stranger, it seemed, had known what was going to happen and had saved his life.
You can view the CCTV footage of the incident for yourself below.
Source: NTV.com.tr | Comments (18)
Tags: Turkey