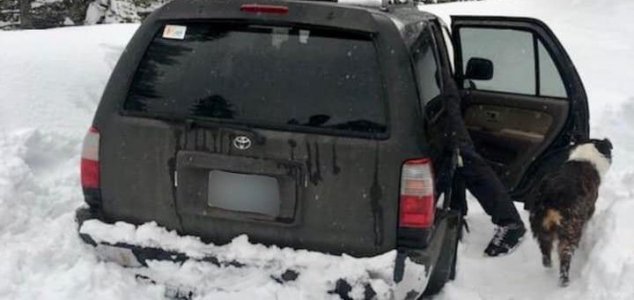 Taylor's car had become completely stuck.

Image Credit: Facebook / Deschutes County Sheriff's Office Oregon
Jeremy Taylor and his dog resorted to eating sachets of Fire Sauce after getting stranded in snow for five days.
The 36-year-old had been driving off-road west of the resort community of Sunriver, Oregon when his vehicle became stuck in heavy snow, leaving him stranded in the middle of nowhere.
After spending the night in his car, Taylor attempted to reach safety on foot but ended up having to return to the vehicle after running in to difficulties getting through the deep snow.
He and his dog Ally ultimately managed to survive for five days by eating sachets of Taco Bell Fire Sauce before they were eventually spotted by a snowmobile rider and rescued.
"Jeremy told investigators he had gone up FS Road 40 on Sunday, but became stuck in the snow," the Deschutes County Sheriff's Office wrote on Facebook.
"He awoke Monday to even more snow and was unable to get his vehicle unstuck."
"Jeremy stayed warm over the next four days by periodically starting his vehicle and used a few taco sauce packets he had as food."
When later asked about his ordeal, Taylor replied - "Taco Bell Fire Sauce saves lives."
Source: Huffington Post | Comments (8)
Tags: Snow, Hot Sauce