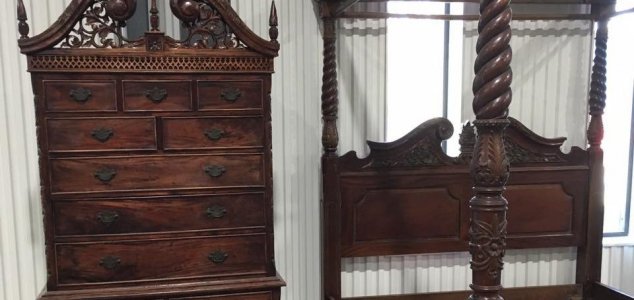 The two 'haunted' items.

Image Credit: Facebook / Habitat for Humanity ReStore of Rowan County
A Thrift store in North Carolina recently posted up a warning notice about a bedroom suite's haunted past.
Habitat for Humanity Rowan County's ReStore made a point to inform potential buyers that a hand-crafted two-piece bedroom suite that it was selling had a rather sinister reputation.
"Please note," the warning reads, "previous owner reports that the highboy is haunted. He reports continuous nightmares for he and his wife while it was in their room."
"He also reports that the dogs would not stop barking at it."
The warning didn't seem to do much to deter interest however as store director of operations Elizabeth Brady later reported that two regular customers had purchased the furniture for the full asking price.
While the notice had intrigued them, it seems that they did not actually believe that the items were haunted when they decided to make the purchase.
How they got on with their new acquisitions after bringing them home however remains unclear.
Source: Fox News | Comments (14)
Tags: Furniture, Haunted