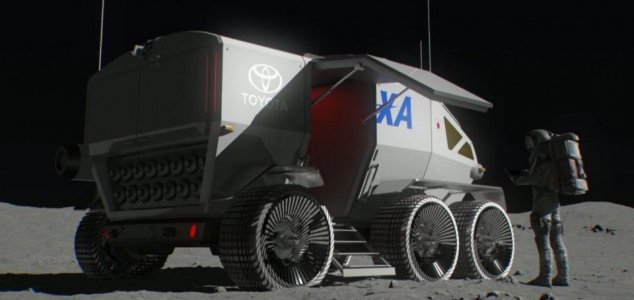 Technology has come on a long way since the Apollo era.

Image Credit: Toyota / JAXA
The automotive giant has designed a new pressurized vehicle that astronauts can drive around on the moon.
The ambitious new vehicle, which looks like something out of a science-fiction movie, could become a major part of Japan's upcoming efforts to place humans on the lunar surface by 2030.
At around the size of two small vans, the buggy will be pressurized so that astronauts can take their helmets off while inside. It has room for two people, with emergency space for two more.
According to Toyota, it will be capable of covering over 6,000 miles.
"Manned rovers with pressurized cabins are an element that will play an important role in fully fledged exploration and use of the lunar surface," said JAXA president Hiroshi Yamakawa.
We could see a new space race emerge over the next few years with several countries, including the United States and Japan, vying to place a human on the moon for the first time since the 1970s.
It looks as though the next decade is going to be an exciting time for manned space exploration.
Source: Sky News | Comments (6)
Tags: Toyota, Moon