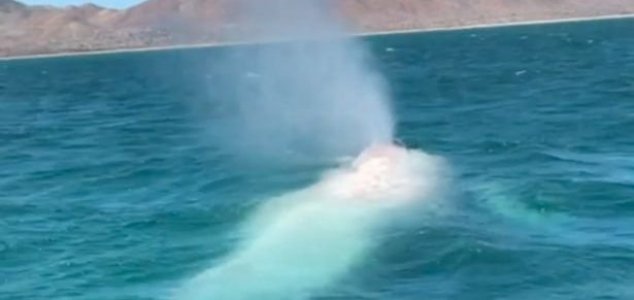 There she blows...!

Image Credit: Facebook / Manuel Gonzalez
A rare white whale has been filmed splashing through the waves off the west coast of Baja California, Mexico.
The footage, which was posted on Facebook by tour guide and scuba instructor Manuel Gonzalez last month, shows what is believed to be a gray whale with albinoism - a congenital absence of pigmentation which renders the subject an abnormal pink or white color.
While rare, the condition has been documented in several different species including mice, alligators, giraffes, gorillas and dolphins, as well as in humans.
The spectacular white whale has drawn comparisons to Moby Dick - the giant white whale featured in Herman Melville's famous 1851 novel about a ship's captain obsessed with revenge.
This isn't the first albino whale seen off the coast of Baja California either, leading some to speculate that it could in fact be the same individual first sighted in the region back in 2008.
Nicknamed 'Milk Gallon', the whale was seen again in 2016 with a calf at its side.
It is unclear however whether or not this latest sighting is of the same animal.
Source: Live Science | Comments (1)
Tags: Moby Dick, White Whale