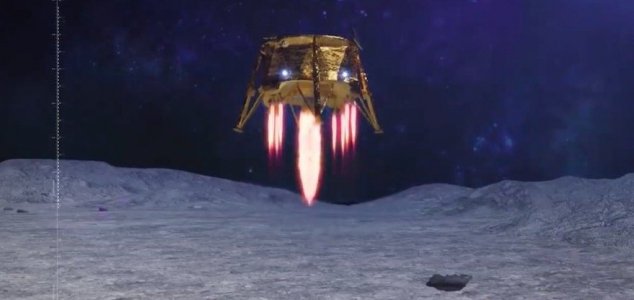 An artist's impression of what the landing *should* have looked like.

Image Credit: SpaceIL
The world's first attempt to land a privately-funded lander on the lunar surface has sadly ended in failure.
At around the size of a washing machine and weighing in at 585kg, the robotic lander, which is called Beresheet (the Hebrew word for Genesis), launched atop a SpaceX rocket from Florida in February.
The project, which cost around $90 million, was privately funded by a number of backers including South African-born Israeli billionaire Morris Kahn and philanthropist Miriam Adelson.
Sadly however, as it descended towards the lunar surface on Thursday, a problem with one of its inertial measurement units resulted in a loss of control, sending it plummeting to its doom.
"We had a failure of the spacecraft," said Opher Doron of Israel Aerospace Industries. "We unfortunately have not managed to land successfully."
Even so, the mission itself has been hailed as a major step forward for the private space sector and there are already plans to attempt another landing in a couple of years' time.
"If at first you don't succeed, you try again," said Israeli prime minister Benjamin Netanyahu.
Source: Spaceflight Now | Comments (19)
Similar stories based on this topic:
Tags: Moon, Israel