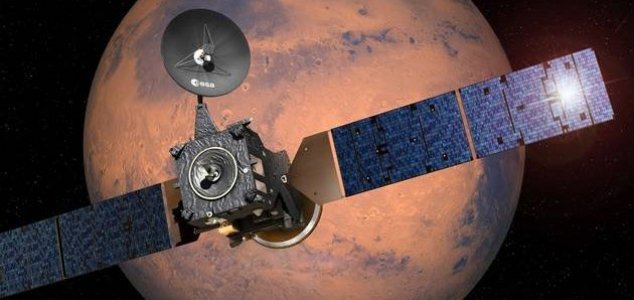 Where did Mars' methane come from and where did it go ?

Image Credit: ESA
Despite methane being detected on Mars previously, more recent scans have revealed no sign of it at all.
The hunt for methane on Mars is particularly significant because here on Earth, it is one of the key indicators of biological life; a single cow can produce up to 200 liters of the stuff every single day.
Earlier this month, the results of a six-year study confirmed beyond any reasonable doubt that methane does (or at least did) exist on Mars back in June 2013 when both the Curiosity rover and the Mars Express orbiter independently picked up traces of the gas in the same region at the same time.
Recent scans by the far more sensitive Trace Gas Orbiter spacecraft however have turned up absolutely no trace of methane whatsoever. So where did it all go ?
It's an enigma that continues to stump scientists and one that ties in to the question of exactly what it was on Mars that produced the gas when it was picked up six years ago.
"If we take the previous measurements at face value, and we obviously believe our own results - then there's something going on in the atmosphere between those two points in time, and it's something we don't predict," said Dr Manish Patel from the UK's Open University.
"We expect methane to hang around in the atmosphere of Mars for hundreds of years. It's destroyed by sunlight, but it's destroyed over relatively long time-scales in terms of human observation."
"Whatever was there before should still be there today, even if at a diluted level."
Source: BBC News | Comments (4)
Tags: Mars, Methane