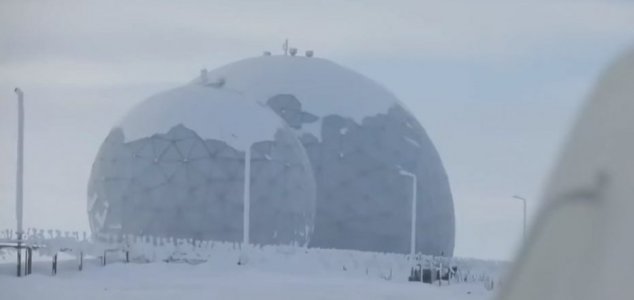 The temperature can drop to -50C during the winter.

Image Credit: YouTube / Russian Defense Ministry
Newly released footage shows 'Northern Clover' - a military base situated far above the Arctic Circle.
The facility, which became operational in 2015, is situated so far north that it exists in complete darkness for three months of the year and is permanently besieged by ice and snow.
Home to around 250 troops, the site was orginally home to a Soviet military base that was abandoned in the 1990s before being redeveloped in recent years due to the strategic importance of its location.
There is no phone or Internet access however the base is equipped with a host of modern facilities and amenities including a snow melting and heating system that provides the troops with enough hot water to last them throughout the coldest parts of the year.
"The Northern Clover is the first permanent facility for the Russian armed forces where they can live autonomously," said Commander Vladimir Pasechnik. "There's a system of closed communication and tunnels between facilities that save the soldiers from unfavorable weather conditions."
"Our water and food reserves can last a year."
Source: MSN.com | Comments (2)
Similar stories based on this topic:
Tags: Russia, Northern Clover