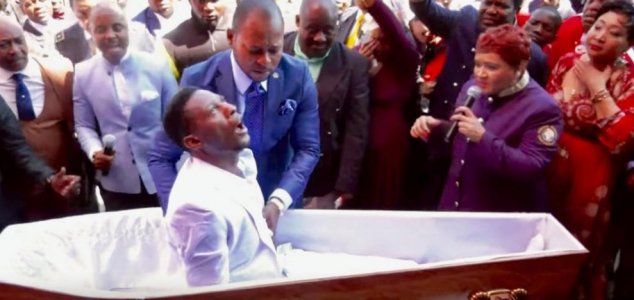 The 'resurrected' man now appears to have died (again).

Image Credit: Alleluia Ministries International
The man at the center of a hoaxed 'resurrection' in South Africa has since died under suspicious circumstances.
The infamous stunt, which saw Prophet Alph Lukau of the Alleluia Ministries International Church 'resurrect' a man named 'Elliot' in front of a crowd of people at a funeral, was quickly outed as a hoax when it became clear that the man had never actually been dead in the first place.
While the crowd seemed to be convinced by the stunt at the time, a viral video of the hoax later landed Lukau in hot water with multiple funeral services suing him for 'reputational damage.'
Now things have taken an even more sinister turn following the news that the 'resurrected' man, whose real name is believed to be Thabiso Proud Mlanje, had actually died at St Luke's Hospital in Lupane earlier this month after suffering from a mysterious condition that left him vomiting blood.
Both Mlanje and Lukau had been wanted by the police in connection with the resurrection hoax, further adding to the suspicious circumstances surrounding his death.
"They specifically said we should attempt to locate a large amount of money, which they thought Mlanje would have on him, presumably hush-money from Lukau," said a police source.
"By the time we located him, he was in a grave."
Now that Mlanje is dead, there is a chance that the investigation in to Lukau could go cold.
Source: thestandard.co.zw | Comments (7)
Tags: Prophet Alph Lukau, Hoax