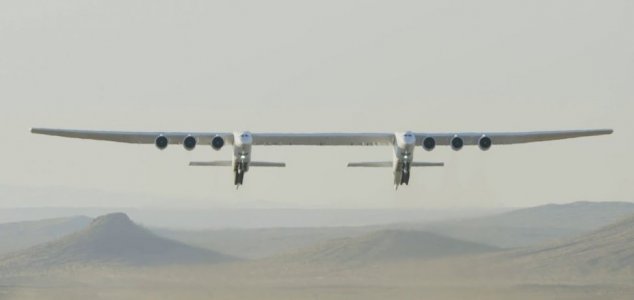 This is one enormous airplane.

Image Credit: YouTube / Stratolaunch
The gargantuan aircraft, which has a wingspan bigger than a football field, soared in to the sky on Saturday.
Measuring a whopping 385ft across and capable of carrying payloads of up to 500,000 pounds, the massive plane almost looks like two airliners stuck together with its unusual dual-fuselage design.
Spearheaded by Microsoft co-founder Paul G. Allen, the project aims to create a cost-effective and reliable means with which to launch satellites, shuttles and other spacecraft from low-Earth orbit.
The huge aircraft took off for the first time from Mojave Air and Space Port in Mojave, California yesterday and stayed aloft for two-and-a-half hours at a peak altitude of 17,000ft.
Its maiden flight enabled engineers to get a proper feel for its performance and handling.
Once it is ready for commercial operations, the plane, which is named Roc, will be able to serve as a relatively inexpensive option for launching satellite-carrying rockets in to space.
"What a fantastic first flight," said Stratolaunch CEO Jean Floyd. "Today's flight furthers our mission to provide a flexible alternative to ground-launched systems."
"We are incredibly proud of the Stratolaunch team, today's flight crew, our partners at Northrup Grumman's Scaled Composites and the Mojave Air and Space Port."
Source: Space.com | Comments (8)
Tags: Stratolaunch