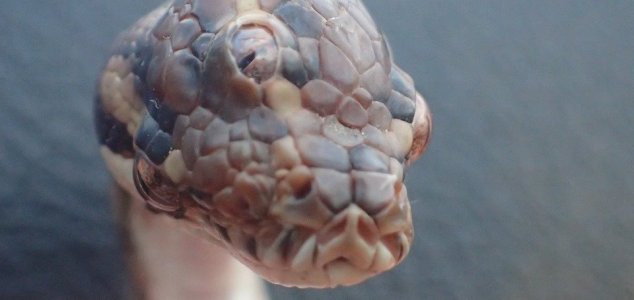 Image Credit: Facebook / The Northern Territory Parks and Wildlife Service
A baby carpet python with a very unusual feature was found recently near the town of Humpty Doo.
Measuring a mere 40cm in length, this peculiar reptile, which earned itself the nickname 'Monty Python', had a total of three eyes with the additional one being located on the top of its head.
Wildlife experts believe that the extra eye was likely due to a natural mutation.
"The snake is peculiar as an x-ray revealed it was not two separate heads forged together, rather it appeared to be one skull with an additional eye socket and three functioning eyes," the Northern Territory Parks and Wildlife Service wrote on Facebook.
"It was generally agreed that the eye likely developed very early during the embryonic stage of development. It is extremely unlikely that this is from environmental factors and is almost certainly a natural occurrence as malformed reptiles are relatively common."
Sadly though, the young snake's deformity appeared to be causing it problems when it tried to eat and within a few weeks of being found it passed away.
Source: BBC News | Comments (5)
Similar stories based on this topic:
Tags: Snake