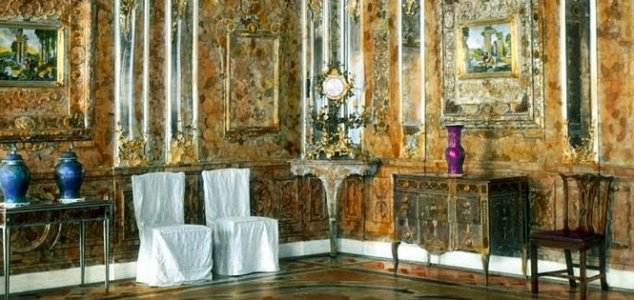 Could the bunker contain Russia's Amber Room ?

Image Credit: Branson DeCou
Treasure hunters believe that the bunker could be where the Nazis stored Russia's long-lost Amber Room.
Featuring walls adorned with priceless amber panels, gold and pearls, the 18th century room, which was plundered by the Nazis during World War II, was such a sight to behold that it was often regarded as the 8th Wonder of the World and is now estimated to be worth in excess of $275 million.
When Germany was defeated it was thought that the Amber Room may have been carefully stashed away somewhere by the fleeing Nazis with the intention of returning for it at a later date.
Exactly where they might have hidden it however has long remained a mystery.
Now though, treasure hunters in Poland believe that they may have finally uncovered its whereabouts thanks to the discovery of a hatch leading to what is thought to be a hidden bunker.
"Thanks to the use of a professional geo-radar, we were able to determine the location of an underground tunnel," they told a local paper. "After digging up the place indicated by the device, we actually found a hatch, which has almost certainly not been opened since the war."
"Several dozen years have passed since the entrance was buried. At that time, on the original 1.5m x 1.5m plate, which closes the entrance, a tree has grown."
The team will now need to wait until the tree has been cut down before they can explore further.
It will be very interesting to see what, if anything, they find inside.
Source: Sputnik International | Comments (15)
Tags: Amber Room, Nazi, Gold