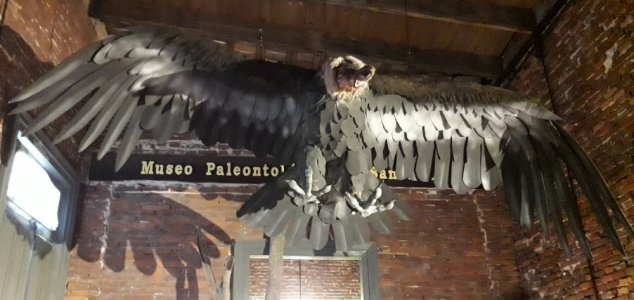 If alive today, this condor would be a contender for world's largest bird.

Image Credit: Agency CTyS-UNLaM
Palaeontologists have unearthed the fossil remains of a gargantuan condor 12 kilometers south of San Pedro.
The huge bird, which was discovered by a team from the Palaeontological Museum of San Pedro, has a wingspan half a meter larger than that of today's Andean condor - one of the world's largest birds.
"It is an exceptional finding, since it is the record of a new species of giant bird that flew over the province of Buenos Aires at the end of the Pleistocene," said Dr. Federico Agnolin of the Argentine Museum of Natural Sciences (MACN).
"The ulna and radius found, belonging to the right wing, are much more robust than the Vultur gryphus, popularly known as the Andean condor, so we estimate that its body mass was much higher, although the study has just begun."
The new species, which has yet to be given a name, lived around 10,000 years ago alongside other large scavenger birds such as the giant carancho and vulture.
"It is a relevant finding and it shows us that the condors were much more diverse at that time and that they also inhabited the Pampean region, while at present they can be seen in the Andean region, in the north of Argentina and, even, up to in the province of Cordoba," said Dr. Agnolin.
Footage of the discovery (with dialogue in Spanish) can be viewed below.
Source credit: Agency CTyS-UNLaM
Source: YouTube | Comments (3)
Tags: Condor, Argentina