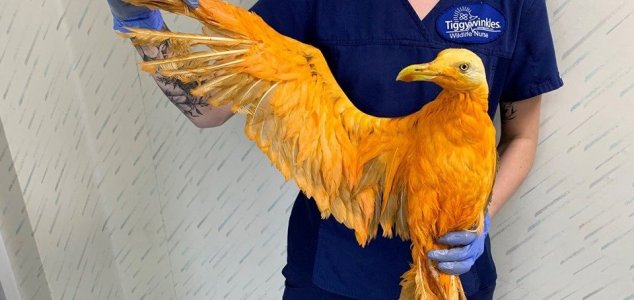 The bird wasn't too amused.

Image Credit: Facebook / Tiggywinkles Wildlife Hospital
A seagull nicknamed 'Vinny' was taken to a wildlife hospital after it was found covered in curry sauce.
The unfortunate seabird, which had been unable to fly properly due to its peculiar predicament, was picked up by a member of the public who spotted it at the side of a road in Buckinghamshire.
Veterinarians at Tiggywinkles Wildlife Hospital later determined that the bird had somehow managed to get itself completely covered in some sort of spicy curry sauce.
It has been speculated that it may have fallen into a waste container outside a takeaway restaurant.
"It was all over his feathers, preventing him from flying properly," the hospital wrote on Facebook.
"We have no idea how he got into this predicament but thankfully, apart from the vibrant color and pungent smell, he was healthy."
"Our veterinary team bravely bathed the gull (now named Vinny after a Vindaloo curry) to clean off his feathers. He managed to cover them in curry water, but eventually did let us scrub him clean."
"He is now looking much better and should be able to go for release very soon!"
Source: CNET.com | Comments (3)
Tags: Seagull, Curry