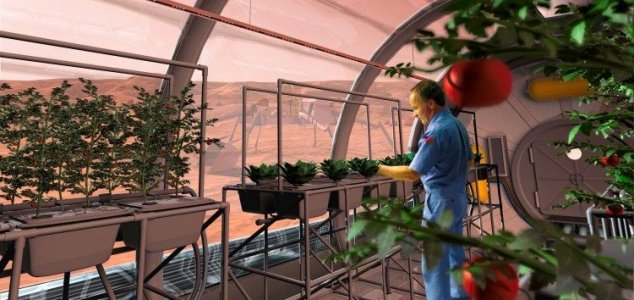 Could we see farms on Mars in the future ?

Image Credit: NASA
Growing crops on the Red Planet would undoubtedly go a long way towards building a sustainable human colony.
Given its cold, harsh environment, Mars might seem like one of the last places where crops would be likely to grow, but what if there was a way to transform its soil in to something that can support life ?
According to researchers at Harvard University, the answer lies in strategically placed "aerogel" sheets capable of mimicking Earth's greenhouse effect by trapping the sun's heat. If used effectively, these sheets could melt the subsurface ice and warm up the soil enough for crops to grow.
They could also help to protect the plants from harmful UV rays while still letting in visible light.
"If we want to make sustainable habitats on another planet using present-day technology, this approach could be very useful," said Robin Wordsworth who worked on the project.
"It's completely scalable, so the area covered could be anywhere from a few square meters to large regions of the planet."
The key would be to deploy the sheets in regions where there is enough ice to water the soil.
"Placing silica aerogel shields over sufficiently ice-rich regions of the Martian surface could therefore allow photosynthetic life to survive there with minimal subsequent intervention," the researchers wrote.
"The best place to try this is similar to where you'd want to land humans: at mid-latitudes where sunlight levels are still relatively high, but where it's close enough to the polar caps that near-surface ice deposits are still scattered around."
Source: The Guardian | Comments (15)
Similar stories based on this topic:
Tags: Mars