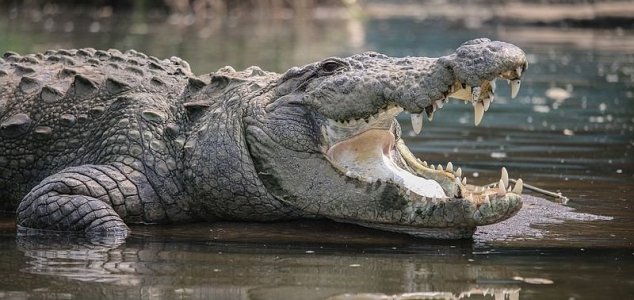 Could the discovery help solve a cold missing persons case ?

Image Credit: CC BY-SA 4.0 Goutham89
An orthopaedic plate has been found in the stomach of a 4.7-meter-long crocodile that died in Queensland.
The huge reptile, which was named 'MJ', had been a resident at the Koorana Crocodile Farm near Rockhampton until he succumbed to injuries sustained during a fight with another crocodile.
When workers at the farm performed a routine autopsy, they were surprised to discover a 10cm-long metal plate thought to be the type used by doctors in surgical procedures.
The crocodile had previously lived in the wild for many years before ending up on the farm, meaning that it is possible that it had once been snacking on more than just wild animals.
"I never thought I'd find anything like this," said John Lever who runs the farm.
"It's likely to have been in the stomach for decades. There's no sign of any code, probably because of wear and tear inside the crocodile's stomach."
If the crocodile had attacked and eaten a human, the bones would have disintegrated within weeks.
Owing to the fact that surgical plates are sometimes used by veterinarians, there is also the possibility that the reptile could have feasted on a dog or cat.
If the crocodile really had eaten a human within the last few decades though, identifying exactly where the plate originated could help to solve a cold missing persons case.
"If we could put some minds at rest, it would be absolutely delightful," said Lever.
Source: 9news.com.au | Comments (9)
Similar stories based on this topic:
Tags: Crocodile