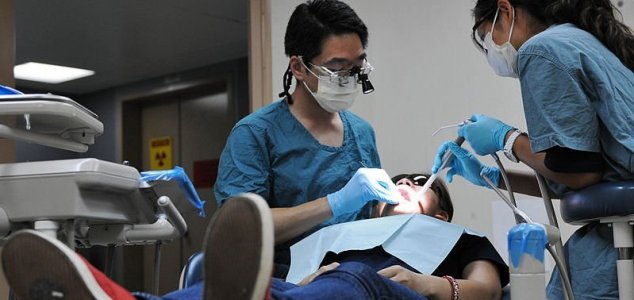 As if going to the dentist wasn't already unnerving enough.

Image Credit: US Navy
Doctors couldn't believe their eyes when they found hundreds of teeth in the mouth of a seven-year-old boy.
The huge number of additional teeth, which were as small as 0.1mm, were found inside a sac nestled within the molar region of the boy's lower jaw. It is believed that a type of benign tumour known as a compound composite odontoma was responsible.
Fortunately doctors were able to successfully remove the extra teeth from the boy's mouth.
"The teeth were of variable sizes that ranged from smallest at 0.1mm to largest 3mm," said Pratibha Ramani, head of oral and maxillofacial pathology at the Saveetha dental college and hospital in Chennai. "They had a small crown, enamel and a small root."
"We had to drill down into the top [of the lower jaw], make a window and remove the sac. As it [the sac] was going deeper into the tissue the size of the teeth was becoming very small."
Incredibly, despite his condition, the boy had suffered only from occasional toothache.
"The only thing which was bothering him was that the tooth on that side had not erupted, it was empty, and [he had] occasional pain, and there was slight swelling that was increasing in size," said Ramani.
With the extra teeth removed, the boy has since been discharged from hospital and is doing well.
Source: The Guardian | Comments (9)
Tags: Teeth