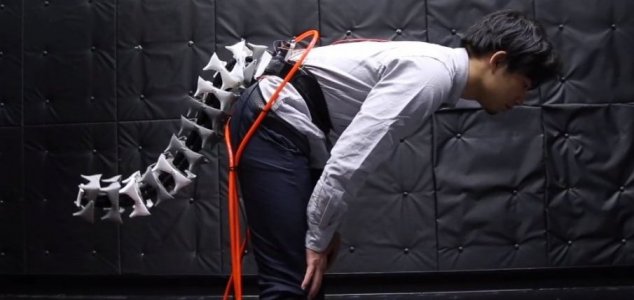 Would you wear a robotic tail to work ?

Image Credit: YouTube / Yamen Saraiji
This remarkable wearable robotic tail has been developed by researchers at Keio University in Japan.
While tails for humans have actually been available for years in Japan, these are typically purely cosmetic in nature and worn more for fun than for any appreciable practical benefit.
Now though, researchers have invented a whole new type of tail - one that is designed to augment the wearer's capabilities by helping them to balance more effectively during a range of movements.
Known as the Arque tail, the device is based on the tail of a seahorse and is comprised of a series of interconnected plastic vertebrae as well as four 'muscles' powered by compressed air.
It has already proven particularly effective at acting as a counterbalance to help workers pick up heavy objects, a bit like an exoskeleton that provides the wearer with enhanced strength.
There is also the potential for the tail to provide haptic feedback for virtual reality users.
Source: Gizmodo | Comments (12)
Similar stories based on this topic:
Tags: Tail, Japan