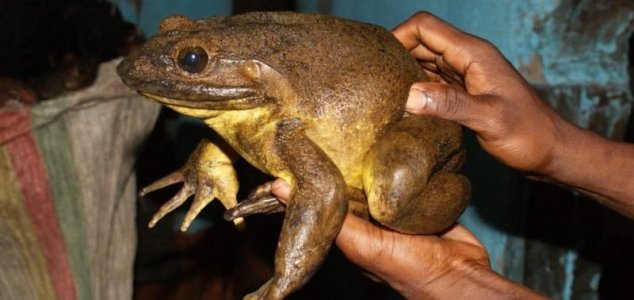 Imagine finding this in your back garden.

Image Credit: Marvin Schafe
The goliath frog is so ridiculously enormous that it is capable of building small ponds by moving rocks.
The species, which is found only in Cameroon and Equatorial Guinea, weighs in at a whopping 3.3kg.
Due to the frogs' remote location not a great deal is actually known about them, but now, a new study published in the
Journal of Natural History
has revealed one of the more unusual traits of these gargantuan amphibians - their ability to move rocks around to form their own little ponds.
These small bodies of water are used by the frogs to help protect their vulnerable offspring.
"Goliath frogs are not only huge, but our discovery shows they seem to be attentive parents as well," said study team member Marvin Schafer.
"The little ponds they make at the edges of fast-flowing rivers provide their eggs and tadpoles with a safe haven from sometimes torrential waters, as well as from the many predators living there."
"We think that the heavy work they put into excavation and moving rocks may explain why gigantism evolved in these frogs in the first place."
Source: Geek.com | Comments (3)
Tags: Goliath Frog