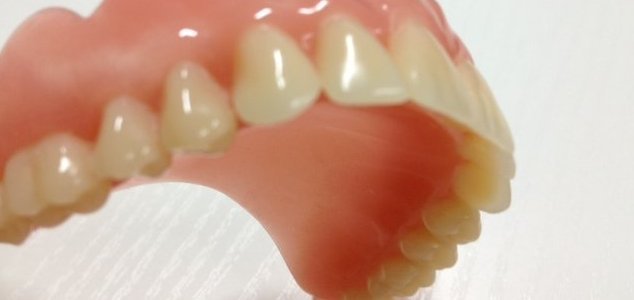 The dentures were found lodged next to the man's vocal cords.

Image Credit: CC BY-SA 3.0 Lucaperabo
A man who experienced difficulty swallowing after surgery was found to have inhaled his own false teeth.
The 72-year-old started to experience symptoms after undergoing a routine surgical procedure to have a benign lump removed from his abdomen under general anaesthetic.
He returned to the hospital a few days later complaining of a sore throat and difficulty swallowing, however his condition was initially dismissed as an infection of the airways and he was sent home.
Unable to swallow the antibiotics he had been prescribed, his symptoms worsened further still.
It wasn't until a more thorough examination was carried out that doctors discovered the cause - a metal plate that had somehow become wedged next to his vocal cords.
It was eventually determined that he must have inhaled his own dentures during the surgery.
The case has helped to highlight the importance of documenting dental prosthetics before an operation, especially if the patient is due to be put under general anaesthetic.
While it is extremely rare for a patient to swallow their own false teeth, such cases have occurred before. A 2016 review documented 91 such incidents in 28 countries over a 15-year period.
Source: The Guardian | Comments (4)
Tags: False Teeth, Surgery