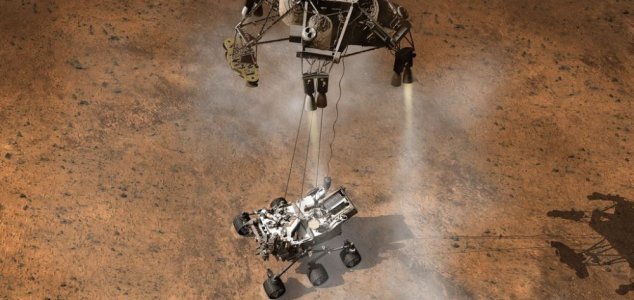 Curiosity's successor will collect some Mars soil for later pickup.

Image Credit: NASA/JPL-Caltech
NASA and ESA are hoping to secure formal approval to return samples of Mars soil to the Earth for study.
While previous missions to Mars have involved the use of compact laboratory equipment to analyze the content of materials collected on the Red Planet, nothing can compare to the level of scrutiny such samples could be put under if scientists were to have direct access to them here on Earth.
To this end, officials have been working for years to launch a sample return mission beginning with the Mars 2020 rover which will collect up some of the soil and prepare it for pickup at a later date.
Finding the funds to develop the second part of such a mission however has not been easy.
"The 2020 budget, the president's recommended budget, included Mars sample return as a recommendation that we begin working on," said NASA's Lori Glaze.
"We don't know the status of that through congressional funding yet because we don't have an appropriations bill yet, but we're hopeful that there will be some appropriations there so we can move out on this activity."
Determining exactly how much such a mission would cost has also proven a challenge.
"Keep in mind, we're looking at a collaborative approach, which helps," said Glaze. "It's in the kind of $2.5 to $3 billion (range). And that number is for the US side, the launch of the lander, (it) does not include the fetch rover, that's ESA-provided. On the Earth Return Orbiter, it's ESA-provided, but it carries a US payload capture system and re-entry system."
"Hopefully, by the end of the calendar year, we'll know what the congressional appropriation is for NASA, and whether or not that includes funding for Mars sample return."
"And also, in November, ESA has their ministerial meeting coming up, where they hopefully get the permission to move out and move forward with Mars sample return on their side."
Source: Spaceflight Now | Comments (19)
Similar stories based on this topic:
Tags: Mars