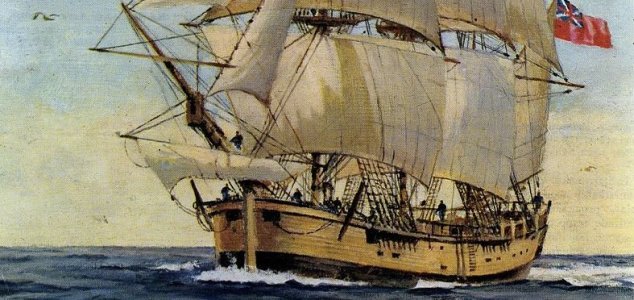 An artist's depiction of the HMS Endeavour.

Image Credit: CC BY-SA 2.0 Archives New Zealand
Maritime archaeologists believe that they may have finally identified the wreck of the HMS Endeavour.
Thought to have been scuttled by the British military along with 12 other ships in 1778, the historic vessel became famous after Captain Cook sailed her on his voyage to the "unknown southern land" between 1768 and 1771. She was the first ship ever to reach the east coast of Australia.
For centuries the final resting place of the iconic vessel remained a total mystery, but in more recent years there has been a growing body of evidence to suggest that it may in fact be one of the ships that currently rest at the bottom of Newport Harbor in Rhode Island.
Now samples taken from the keel of one of the ships have been sent for testing to determine if it is made of elm wood - a prime indicator that it is indeed Captain Cook's vessel.
"We do not think we are going to find something that says 'Captain Cook slept here' - that is not likely," said principal investigator Kathy Abbass.
"But if we find some of the smaller stuff that is consistent with how we know she was used - as a transport and as a prison ship in Newport, then we know we have got her."
"Everything we see this year is consistent with it being the Endeavour, and we have seen nothing that says it can't be."
Determining for sure that the iconic ship has been found however could still take years.
Source: Live Science | Comments (4)
Tags: HMS Endeavour. Captain Cook