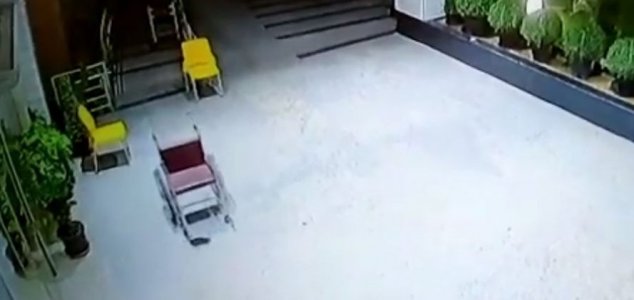 The video was recorded in an extension wing at a facility in Chandigarh.

Image Credit: Manoj Kumar
A recently published viral video shows a wheelchair seemingly moving all on its own at a hospital in India.
The movement of the wheelchair, which has since sparked speculation of a ghostly presence, was first noticed by security guard Manoj Kumar who had nipped outside for a drink of water.
In the video (which can be viewed below), the wheelchair starts to move at around 00:30s.
While it's very easy to attribute the movement to the wind (especially as the wheelchair was outside), some staff members were reportedly so spooked by the footage that they have since been reluctant to come into work for the night shift due to the possibility of a supernatural presence.
"One of us had gone for the rounds and another was inside," said Kumar. "I came out to drink water and I saw the wheelchair moving on its own."
"It was just wind nothing else. I was also feeling very cold."
Source: AOL News | Comments (48)
Tags: Wheelchair