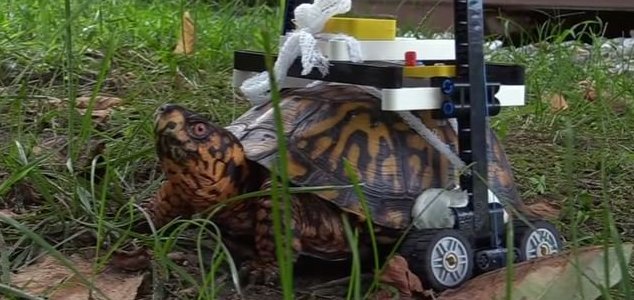 This turtle has a rather unusual way of getting around.

Image Credit: YouTube / Maryland Zoo
The popular toy bricks were the ideal choice for building a custom wheelchair for a rather unusual patient.
This grapefruit-sized eastern box turtle, which has recently taken up residence at Maryland Zoo, was originally found back in July with fractures to the underside of its shell.
While veterinarians were able to successfully repair the damage, it became apparent that their patient would need to avoid putting any weight on to its shell until its injuries had fully healed up.
To help the animal along, zoo veterinary extern Garrett Fraess drew up some schematics for a special turtle-sized wheelchair and sent them off to his friend who happened to be a Lego enthusiast.
The resulting contraption now enables the plucky tetrapod to roam around as much as he pleases.
It may be some time however before he will be able to walk without it.
Source: AOL News | Comments (5)
Tags: Turtle, Lego